CERAMIC COATING TECHNOLOGIES
CHEMICALLY STRENGTHENED TECHNOLOGY (CST)
CST GIVES THE CAR BODY WEAR RESISTANCE, WHILE IMPROVING FOUR TIMES THE HARDNESS OF THE SUBSTRATE
An innovation in the coating industry, the CST involves the exchange of IONS between two layers of coating. It increases four times the hardness and density of the substrate while giving the car body wear-resistant characteristics, greatly improving the durability of your ceramic coating.
CHEMICALLY STRENGTHENED TECHNOLOGY (CST)
A new breakthrough in coating technology, CST gives the car body the most needed wear resistance through the exchange of IONs, while also increasing four times the hardness of the substrate. The CST effectiveness has been officially certified by SGS.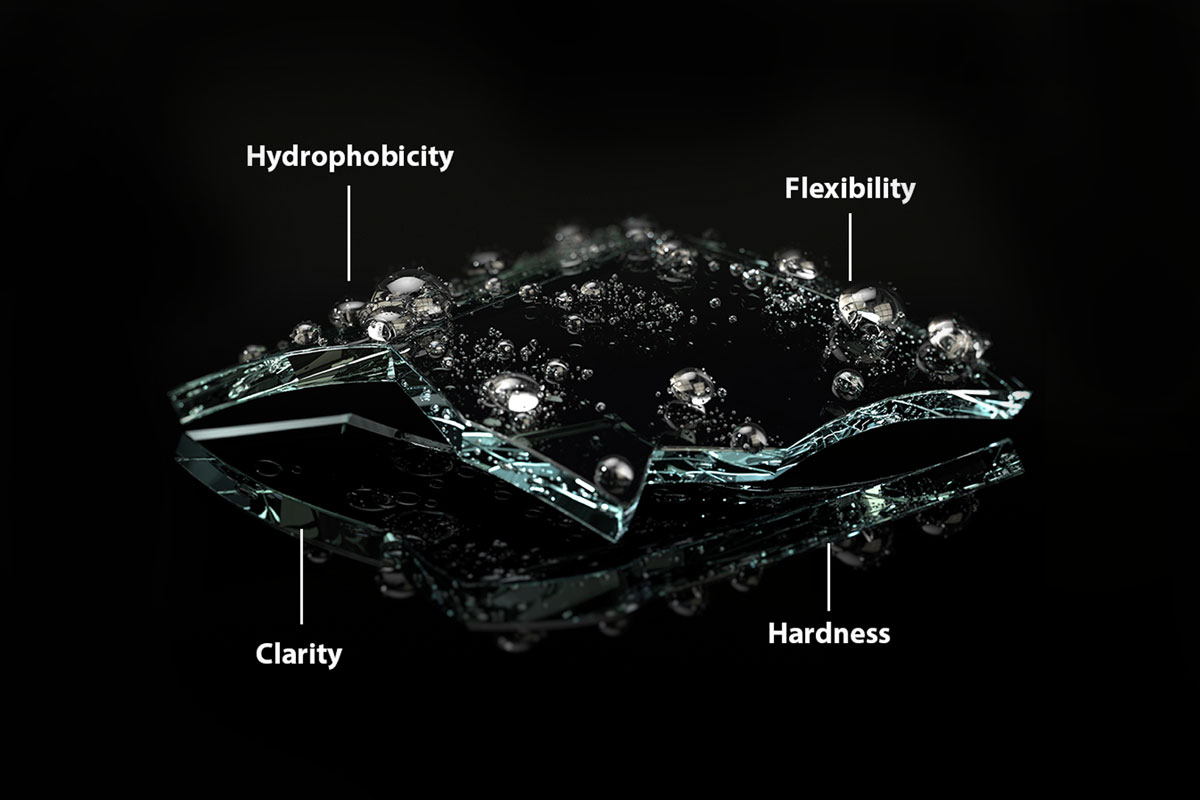 THE CST GREATLY EXTENDS THE COATING PROTECTION!
The CST has been widely used in the glass production industry, to improve its resistance to scratches and impacts. If you noticed that your phone's glass screen has become much tougher than in the past, that's because of the CST. CHOOSE NanoTech understands this technology's benefits and adopted it to create our new ceramic coating ION.
HOW DOES EXACTLY THE CST WORK?
The chemical strengthening of glass happens through the exchange of metal ION particles: the glass is soaked in a chemical solution, composed of large ION particles. Thanks to the high temperature of the solution, the large ION particles penetrate the surface of the glass, replacing the smaller particles. This allows the glass to become more compressed, and obtain four times the density and hardness of traditional glass. Moreover, the chemically strengthened glass does not experience extreme temperature changes, bending, or deformation, so the original appearance is always maintained.
OUTSTANDING EFFECTS AND DURABILITY!
KubeBond's ION is based on chemically strengthened technology. It breaks through the high-temperature limit required for curing, and even at room temperature, the ION bonds can react with the surface of the object and produce a three-dimensional protective layer. This not only increases the hardness of the substrate several times but also gives the object wear resistance, effectively decreasing the risk of surface scratches. Moreover, the protective layer has strong adhesion, even in unstable weather conditions. The CST is being actively implemented by CHOOSE in the protection of various surfaces, such as paint, leather, marble etc.
KUBEBOND PROFESSIONAL COATING SERVICE
Our team will assist you 24 hours a day. Enjoy exclusive car maintenance services with online appointment!