CERAMIC COATING TECHNOLOGIES
9H IS THE HIGHEST OF HARDNESS STANDARDS. IT INCREASES THE SUBSTRATE PROTECTION BY SEVERAL TIMES, TO ACHIEVE BEST PROTECTION
Despite the advancements in technology, car paint is still a relatively soft material, and can easily deteriorate because of physical damage.
KubeBond ceramic coatings are 9H hardness certified and increase the ability of the paint to sustain damage from light scratches, tree branches, and weather elements.
9H is the highest pencil hardness level. Thanks to it, the protected surface increases its resistance to dents, scratches and any other damage.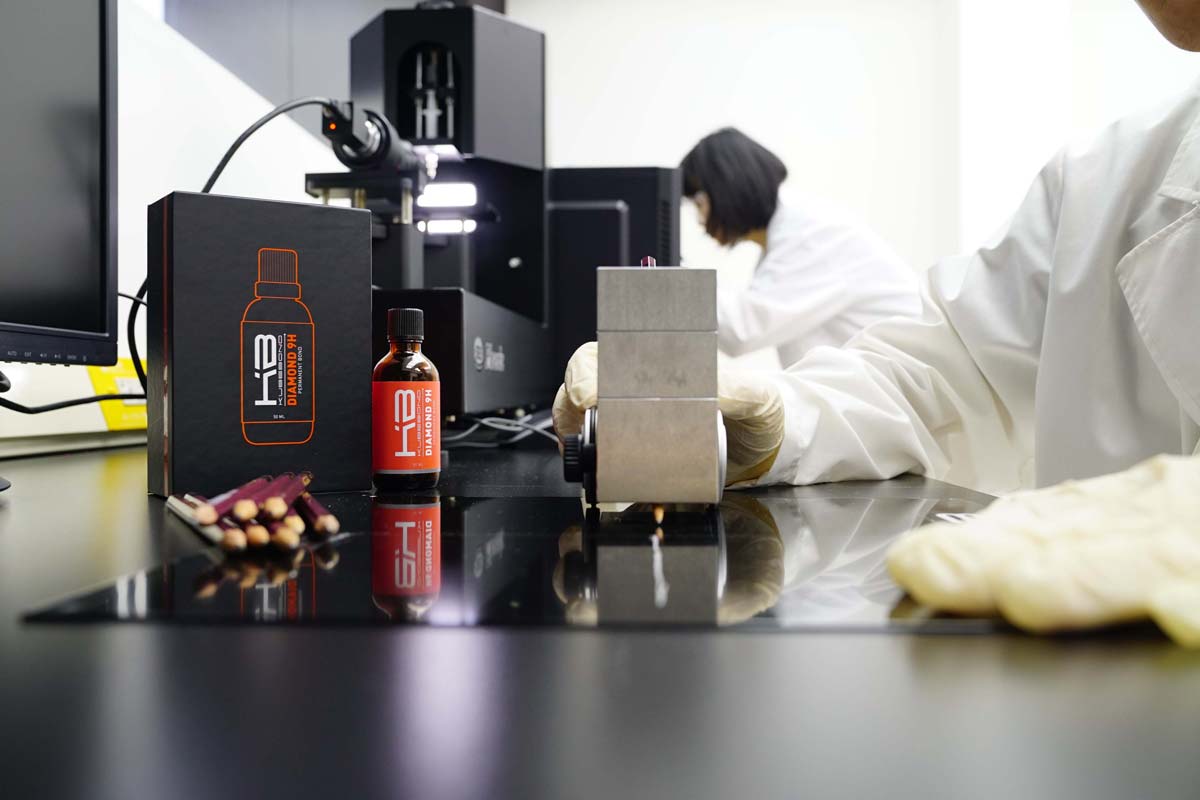 THE DIFFERENCE BETWEEN COATING AND WAX
The car detailing industry has changed a lot throughout the years. From simply providing a good water repellent effect, to increasing the hardness of the paint, nowadays there's a wide variety of services that customers can choose from. The main advantage of wax is that it is relatively simple to apply, as long as you know how to use a polishing machine properly. However, it only provides limided effects, which might disappear after the first car wash. On top of that, its frequent applications consume the clear coat due to the rotartory movement of the polishing machine.
WHAT KIND OF PROTECTION CAN THE 9H HARDNESS ACHIEVE?
The 9H hardness can significantly increase the hardness of any substrate, and the resistance against scratches and hurts. This does not affect the original appearance of the object, which maintains its transparency and original texture. Ten years ago, there was no standard for the identification of ceramic coating hardness. KubeBond was the first brand to cooperate with a third party organization, SGS, to certify the hardness that our products can reach. This allowed our Diamond 9H to become the most sold product in the industry for over ten years.
INCREASED GLOSSINESS AND DURABLE HYDROPHOBIC EFFECT
Other than better protection against scratches and dents, KubeBond's Diamond 9H provides more glossiness to the car paint, 130° of water contact angle, and a self cleaning effect. Other than the SGS certification, our products are also EU REACH certified, which makes them harmless for the environment, and those around you. The winning combination between protective effects and official certifications, allowed our products to be sold in more than 90 countries worldwide.
KUBEBOND PROFESSIONAL COATING SERVICE
Our team will assist you 24 hours a day. Enjoy exclusive car maintenance services with online appointment!